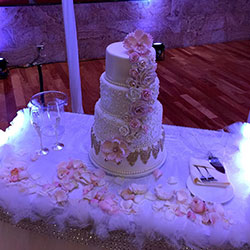 As you are about to embark on the most exciting chapter of your life, know that the memories from your wedding day will forever echo in the hearts of you and your loved ones. At The Hallcrown Event Venue, we are committed to delivering the wedding day of your dreams, transforming your vision into reality. Our talented team of professionals provides personalized service and great attention to detail to host a spectacular celebration on the day of your union.
Showcasing walls accented by imported European stones, high tiled ceilings and advanced sound and lighting equipment, our newly-renovated hall provides the perfect backdrop for life's pinnacle moments. Our world-class catering team is ready to create a gourmet menu to suit your taste and promises to deliver the highest quality cuisine.
Savour the moment from your second story bridal suite, overlooking the hall onto all your guests, as our team handles every last detail to your satisfaction. Our convenient location, professional service, vast facilities also makes The Hallcrown an ideal host for all your pre-wedding celebrations, including bridal showers, bachelor and engagement parties.  The adjacent hotel provides an added convenience and promises to look well after any out-of-town guests.
Our wedding packages include:
Dinner tasting for two
Complimentary signature drink service for cocktail hour
Champagne toast
Wine service during dinner
Children's menu options
Table setting and linens
Good ratio of servers/bartenders to guests
Bridal room with on-suite powder room
Complimentary guest parking
Special rates for adjacent hotel
Contact us today to see how the Hallcrown can make your wedding day special.